Metro
Nigerian man claims that because his buddies were making fun of his sister's phone, he purchased her an iPhone 14, Apple Watch.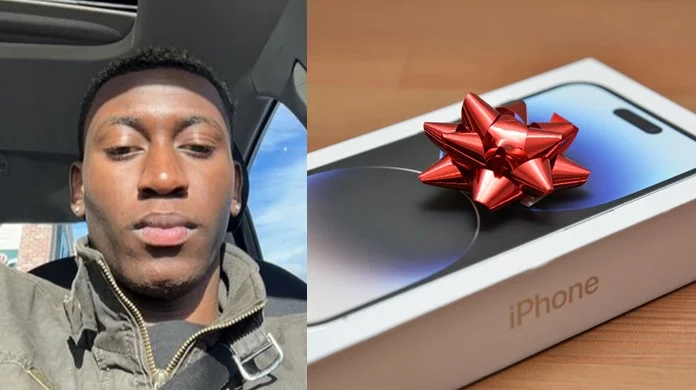 An anonymous Nigerian guy named Bob has described what he did to stop his sister's friends from making fun of her for having a certain type of phone.
The person using the Twitter handle @lonzobob claimed to have overheard the girl's pals making fun of her iPhone XR, which is why he decided to buy her an iPhone 14.
The young man also said that he purchased his sister an Apple watch solely so that she could shove it in their faces.
He claims that as soon as the girl got her iPhone 14, she began facetiming the same people.
heard my sister's friends making jokes ab her xr and i bought her a 14 and apple watch. all of them de mad

— 𝐛𝐨𝐛.𝐱𝐱 (@lonzobob) December 17, 2022
@lonzobob added; "She started facetiming them immediately😂"

"lol i think it's normal for friends to joke around + she wasn't the one that cared, i was the one that cared. she don't need to cut them off IMO."
In reaction, @talllizzy_girl said; Bullying me for not using an iPhone is something i had to change school for cos mehhnn my mental health is at stake
@its_yosy; This fIex 🤭.It's the way my second brother took me out on a dinner date and the first paid for my dress,shoes and everything cus he wasn't around and everyone on my ig was shouting God when thinking I went out with a man😂😂.. elder siblings that fund your baby girl life style>
@kaycayy; My friend cried to me about her friends bulling her for using an IPhone 6 and I blocked her.
@badgirlalla; Remember when my friend's sis told her to tell me I can't go out with them. Why? It was later I learnt it was because I don't put on original Human hair. Omo I wan enter ground
@AdaezeChalene; People like me that still use iPhone 6s. Nọ amount of bully will make me upgrade when I don't have the money or need for it 🤪. In as much as we love good things but I don't think I'm that type that can be coerce to do something that I don't want to do
@papiwrecks; I don turn this post into prayer point … lord Jesus please give me the ability to turn up for my people when they need it .. ijn amen 🤲🏾😭 …. What you did was really really good 💯
@forever_boobaby; I remember when my ex said am cheap because I was using xr after we broke up lol. Atleast no be boy buy am and no boy fit break my phone again ✅
@puffyypixy; i jus got a xr a few months ago im grateful 🤣🤣you should of told her to cut her friends off & stop caring about what ppl think of her instead but that's jus my opinion that didn't really solve the problem.
For more updates, always visit dailygam.com