Metro
Despite having 1 million views, only 6 people actually assisted me. According to the man who got Bobrisky's face tattooed and got HIV.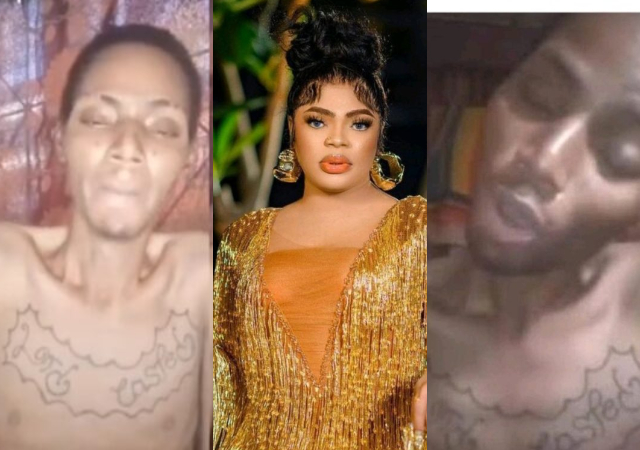 Idris "Bobrisky" Okuneye, a well-known crossdresser who claimed to have contracted a fatal illness by drawing a tattoo, has sparked yet another outcry from a fan.
The young man known as Lord Caster cried out for assistance, claiming that complications from the tattoo of Bobrisky he drew on his arm are to blame for his strange illness.
A few weeks after his viral video went viral, he went online once more to admit that not many people had offered to assist him.
Lord Caster bemoaned the fact that despite his video receiving 1 million views, only six people contributed to him.
The young man questioned why it was so difficult for kind people to lend him their support and assistance.
The young man claimed that although he had been eating well for a while, he had believed that his condition had improved. However, things now appear to be getting worse.
He renewed his call for help from Nigerians, saying that he had been abandoned.
As a sign of his affection for Bob, he inked the drag queen's face on his arm in March 2021.
In September 2022, he has become emaciated and claims that the disease he has is a result of the machine that was used on his body.
He pleaded with Nigerians in a viral video to assist him in apologizing to Bobrisky for what he had done.
Due to the man's failure to keep his word, he later changed sides and sided with Bobrisky's rival James Brown.
When he thanked Bob for the tattoo, he called him out for not giving him the cash he had promised.
However, he claimed in the most recent video that all he required was for the crossdresser to help him and give him another chance.
The young man, who appeared to be seriously ill, started crying as he was making his appeal.
For further information and updates always visit dailygam.com
See post below