Entertainment
Nigeria: 'Stop calling my name,' Bobrisky replies, a man who got HIV from tattooing his face; spills more details.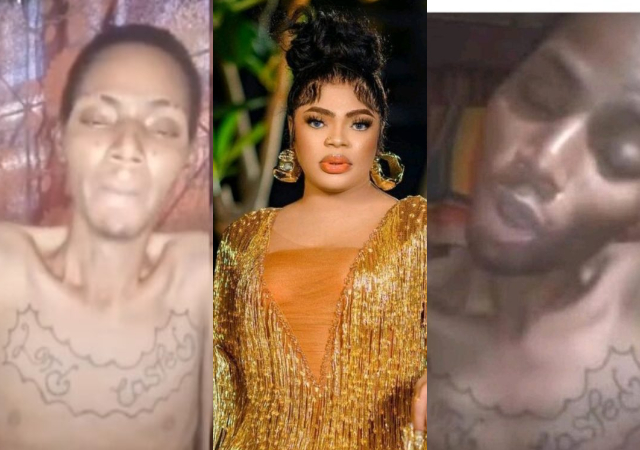 Okuneye Idris Olanrewaju, popularly known as Bobrisky, a crossdresser and socialite, has responded to a viral video of a young man with his photo tattooed on his arm, which has trended on social media for appearing sick.
According to the man, also known as Lord Casted, he became infected with HIV as a result of the equipment used for the tattoo inscription on his arm.
He also claimed to be on drugs and in need of help, pleading with Nigerians, bloggers, and others to assist him in begging Bobrisky for forgiveness.
HE SAID, "HELLO GUYS IT'S LORD CASTED. DO YOU REMEMBER THE GUY WHO TATTOOED BOBRISKY ON HIS ARM? I AM HERE O. ALL I WANTED WAS JUST HELP, NOW I GOT THE DISEASE FROM THE MACHINE THEY USED TO DRAW THE TATTOO. I AM ALREADY TAKING MY DRUGS, I AM OKAY, I AM FINE"

I AM SHAKING LIKE THIS BECAUSE I AM STILL TAKING DRUGS, SO I WANT TO BEG ALL NIGERIANS, ALL BLOGGERS TO HELP ME BEG BOBRISKY TO FORGIVE ME, HE SHOULD JUST MAKE SURE I AM OKAY, PLEASE."
In response to the summons, Bobrisky warned the sickly young man to stop tarnishing his image.
Bobrisky also claimed to have previously assisted Lord Casted, but received insults at the end of the day.
STOP CALLING MY NAME. IF YOU TRULY NEED HELP STOP TAKING DRUGS. LASTLY STOP LYING YOU CONTACTED HIV FROM THE TATTOO YOU DREW MY NAME WITH & . TALK ABOUT D BIG TATOO ON UR CHEST FIRST WHY INVOLVING MY NAME. USE CONDOM UNA NO GO HEAR E DON HAPPEN NA BOB MUST SUFFER IT. WHEN YOU WERE ENJOYING IT RAW I DEY HELP YOU ENJOY AM ?

ASK FOR HELP NOT THAT EMOTIONAL BLACKMAIL VIDEO YOU ARE DOING. IF THERE'S ONE THING I WISH OR WANT TO ERASE IS HELPING UNGRATEFUL PEOPLE. LORD CASTED OR WHATEVER NAME YOU CALLED URSELF STOP CALLING MY NAME IN UR VIDEOS. I REMEMBER D LAST TIME I GAVE YOU MONEY AND HELP YOU AFTER FEW MONTHS YOU RAINED INSULT ON ME AND CALLED ME FAKE. I'M SHOCK SEEING UR VIDEOS NOW BEGGING ME TO HELP YOU. SAD ONLY IF WE ALL CAN SEE WHAT CAN HAPPEN IN THE FUTURE WE WON'T MESS THINGS UP WITH OUR HANDS," BOBRISKY WROTE ON HIS VERIFIED INSTAGRAM PAGE.
For further information and updates always visit dailygam.com