Metro
Confusion as bus conductor demands transfer from passengers without new currency[VIDEO]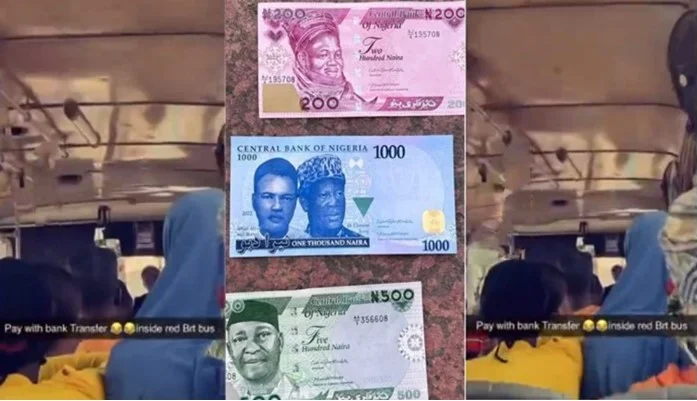 An online video captured the moment a commercial bus conductor requested the newly created naira note as payment.
He rejected the old notes and said that regardless of the fare, anyone unable to present the new currency would have to pay through transfer.
Inside the bus, confusion and some uneasiness resulted because it appears that no transfers were planned by the passengers.
A passenger posted a video of the bus getting unruly when the driver stated that he won't move until the payment issue is resolved on the Instagram blog Gossipmill.
However, this comes after the Central Bank of Nigeria extended the window for banks to accept old N200, N500, and N1000 notes by 10 days.
Godwin Emefiele, the governor of the Central Bank of Nigeria, announced on Sunday that the old naira notes will continue to be exchanged for the new ones through February 10, 2023.
Emefiele said, "Based on the foregoing, we have sought and obtained Mr President's approval for the following: a 10-day extension of the deadline from January 31, 2023, to February 10, 2023; to allow for collection of more old notes legitimately held by Nigerians and achieve more success in cash swap in our rural communities after which all old notes outside the CBN loses their Legal Tender Status.

"Our CBN staff currently on mass mobilisation and monitoring together with officials of the Economic and Financial Crimes Commission and the Independent Corrupt Practices and other Related Offences Commission will work together to achieve these objectives.

"A seven-day grace period, beginning from February 10 to February 17, 2023, in compliance with Sections 20(3) and 22 of the CBN Act, allowing Nigerians to deposit their old notes at the CBN after the February deadline when the old currency would have lost its Legal Tender status."
Reacting, waja2186 wrote; Even wen CBN hv given two weeks extension
diiamondyrn; Before Watin make them do ?
hajjicosmos101; Way to go, it will now remain how our banks we strengthen their security server
macquine001; People wey dey watch this Big Brother show for Naija no fit reach 50.
parker_ojugo; Netflix just dey sleep on this country see better comic play 😂😂😂😂
greatnessf3; Me if I wan giv u my new money u go pay for it
poetic_v; Yes na incase someone wants to start telling stories.
_teetat; Even me will pay conductor and driver with transfer now😂. Make I no go hold cash that no one will collect from.
For more updates, always visit dailygam.com