Metro
Bus driver abandons woman when she refuses to accept a redesigned N1,000 note (Watch video)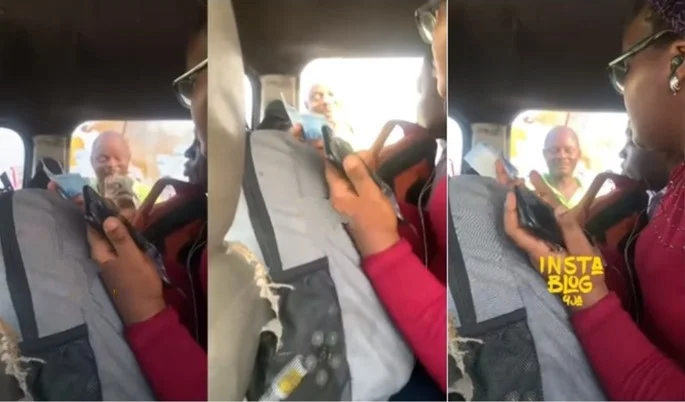 The bus driver claimed that he would not accept the money since he was unsure whether it was real or not.
She claimed to have only the new N1,000 on her, which caused some delay because she was unable to drop it and they were unable to move on either.
Passengers are seen in a video going viral online looking perplexed as they continue to argue over the legitimacy of the money.
The conductor was questioned if he was aware of the new naira notes that were in use, and he said he was unaware of the one the woman intended to use to make the payment.
The guy then handed him a one thousand rupee bill, which the conductor claimed he could recognize even with his eyes closed.
A man seated next to the female passenger defended her and questioned why he was denying her request to get off his bus and board another one.
The conductor was then forced to collect it and went to inquire with some of his coworkers about if it was actual money.
In reaction, IG user, evelyn____xx said; Wait o 🤨 the money is now in circulation?? Am I the only one that haven't seen it
adeoluolatomide; The fakes are about to be everywhere. Even the originals look fake!
the_belle_tiwa; The originality of the money itself looks fake! Coloring 😂😂😂😂😂😂😂
theonlyemilia; I no blame the conductor. Me sef no go even collect am as change since I haven't seen it in circulation yet.
chanty_skitchen; 😂😂😂 You only collect what you know. Even I didn't know that it is already in circulation. They couldn't even create an awareness campaign for it. My Obodo Naija
omoleyehannah; But, Where una get this money from, no be now dem just wan release am?
discreet_fun_massage_lagos; You see the people that need's orientation well now on who to vote for? For a better Nigeria ? Na them and they aren't on social media
dharahsbeautyempire; Na only me shaa never see d money, make I get patience till e reach my turn😒
medasbotanics; Please don't blame the conductor cos the counterfeit out there eh.. okpo. I'll rather collect transfer 😂😂
daniel_.regha__; Redesigning the naira notes w¤n't help fix the devaluati¤n of naira; Emefiele d¤esn't know his priorities. The goal right now should be looking for ways to increase the value of naira, not redesign it. This present govt has fai!ed in every sector but some Nigerians w¤n't learn.
For more update, always visit dailygam.com
<div