Entertainment
As she claps back at Iheme, Sandra Iheuwa makes startling discoveries, "Do you still have any womb?" Nancy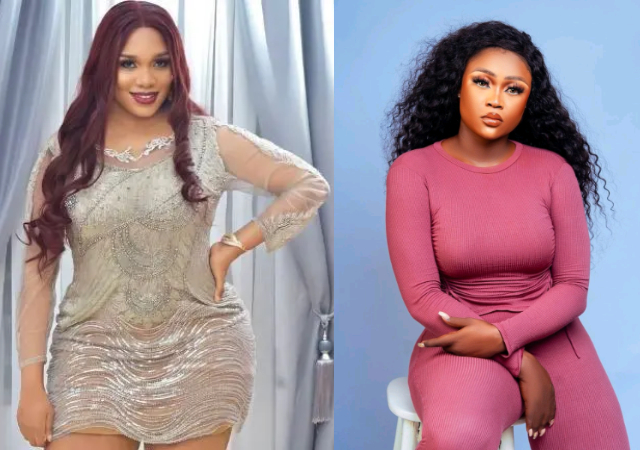 Sandra Iheuwa, a businesswoman, responded to actress Iheme Nancy after she made fun of her due to a failed marriage.
Sandra Iheuwa's accusation that Iheme had slept with her estranged husband, Steve Thompson, set off the entire controversy.
She was rebuked by Iheme for possessing an American passport but still being unable to maintain a relationship with a man.
Sandra responded by saying that a man can only be kept if he wants to be.
She asserted that Iheme left her husband's home because she was unable to stop having affairs with married men.
Sandra said that, in contrast to Iheme, who must scavenge for cash, she has a passport and can leave the nation at any time.
Sandra made a comparison, boasting that she was superior to Iheme, who was well-known in Owerri for having affairs with married men.
"Yes o I can't keep a man that can't be kept. Look at who ran away from her husband house cos you can't stop sleeping with married men??? Thank God you know I got blue passport means I can Japa and you will keep sleeping with married men for survival….. But I'm way better than you who doesn't know you from Owerri? Chi boy??? Married man you couldn't leave alone for years….do you want to keep going??? No wonder you attended my wedding. I see married men they always enter your eyes…. Have you cum today? Mrs Cummings!!!
In a follow-up, she questioned whether Iheme Nancy still had a womb while referring to her as the "Queen of Abortions."
She continued by saying that as a result of her numerous abortions, her unborn children are constantly on her mind.
"Queen of abortions…do you still have a womb? Your unborn babies hovering around your head. Your life needs more fixing than mine. You need the therapist more than I do… Go and collect the hookup money he's owning you since 2021….."
For more updates, always visit dailygam.com