Metro
Nigeria: Doren Specialist Hospital is being dragged through the mud over the death of Rico Swavey.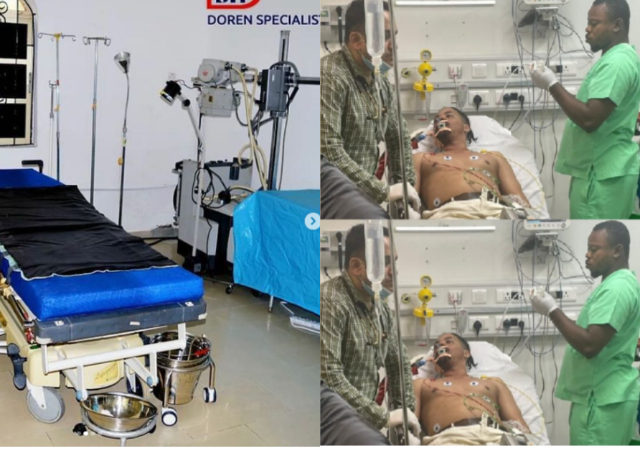 Angry Nigerians have taken to social media to blame a popular Lagos hospital, "Doren Specialist Hospital Ajah," for Rico Swavey's death.
Rico Swavey, an ex-Big Brother Naija housemate, was injured in a road accident in the Lekki/Ajah area of Lagos State, but he died in the early hours of Wednesday, hours after another BB Naija housemate, Tobi Bakre, launched a fundraising campaign for his treatment.
Rico was rushed to Doren Hospital following the accident, according to reports.
A video of hospital workers mocking him as he fought for his life went viral.
Gist lovers wrote, "Seems I finally got the hospital , some are saying it's Evercare, they just did a disclaimer now saying it's not them as Nigerians don almost drag life comot for their MD body, those ones don come out say no be them , one of the deceased family who pleaded anonymity talk say na this Doren hospital and on a closer look I see say be like say their uniform na the same and the environment @doren_hospital come forward with a valid explanation and provide those non challant under bridge nurses , na una hospital he happen abi no be una , you need to come forth with better explanations, why una Dey limit comment if no be say una don do bad. I come in peace"
Rico Swavey, who was indisposed, was seen sitting on a chair while receiving oxygen as nurses debated how to move him to the Intensive Care Unit, according to a viral video.
Because she wasn't pleased with her coworkers' behavior, one of them reprimanded them for filming him while he was fighting for his life in the video.
She pointed out that he was in critical condition, but they were more concerned with filming videos. "Oya, make we carry am now go inside," one of them could be heard saying. Another nurse laughed as she said this.
"His oxygen is 90%," said another nurse, who was not pleased with their behavior. Let's stop making videos and start moving him. Someone is in critical condition, and you're filming".
Netizens have expressed their displeasure with the video, accusing the healthcare workers of being careless.
One social media user responded to the hospital's identity reveal by writing,
"HA! THAT DOREN HOSPITAL???? IT'S BAD LUCK O! PEOPLE I KNOW WHO GO THERE NEVER COME OUT ALIVE. I KNOW AT LEAST FOUR CASES"

@ONE GENERALL_KAJI WROTE, "ALL OF THEM NEED TO START PRACTICING WITH IMMEDIATE EFFECT …. WAT A HORRIBLE WAY TO WATCH RICO PASS … I FEEL SO DISGUSTED"

@ONE MEODY__WILLIAMS WROTE, "THIS PARTICULAR HOSPITAL IN MY ESTATE…. I WILL PERSONALLY JOIN U TO DRAG THEM OUT… I REMEMBER WHEN MY SISTER WAS SICK WE RUSHED HER TO THIS HOSPITAL…. THE NURSES AND DOCTOR THERE DON'T CARE ABOUT PEOPLES LIFE…EVEN THE EMERGENCY UNIT BEFORR THEY WILL ATTEND TO YOU. I HATED THIS PLACE SO MUCH… NEVER AGAIN"

"DOREN FOR AJAH ..WE NEVER FORGET THE NURSE WAY KEE THAT SMALL BOY FOR OGOMBO BY GIVING THE BOY OVERDOSE..GOD PLEASE DNT ALLOW US BE AT THE MERCY OF NIGERIAN HEALTH PRACTITIONERS" ANOTHER USER WROTE.
For further information and updates always visit dailygam.com