Entertainment
Nigeria: I don get husband, y'all should be safe, said the wife of Israeli DMW.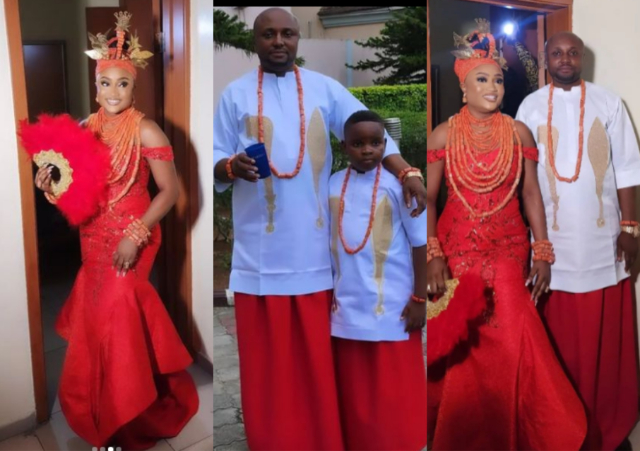 A-list On October 20, 2022, logistics manager Israel Afeare, also known as Israel DMW, and his fiancée were married in Benin City, Edo state, according to tradition.
Remember how Israel DMW proposed to his fiancée in April at the upscale Protea Hotel in Benin City, Edo State?
The news sparked some responses from Davido's followers, who implied that Israel's girl accepted his proposal as a result of the musician.
With their wedding introduction on June Fourth, the couple took the first step toward a lifetime together. Isreal DMW was seen at the Benin City home of his fiancée's family, where they had their wedding introduction.
Following the wedding introduction, plans for his nuptials, which are scheduled for October 22 in Benin City, are already well under way.
Many people were shocked when Israel begged Nigerians to attend his wedding after popping the question. He said that his own donations wouldn't be distributed to charities in a dig at Davido.
"I need ur full support. My Trad & White wedding is next month October in Benin City. Am not giving my own donations to anyone. Names are completely different. Am not my hmmmm….".
Reacting to it, Etinosa poked fun at him.
She wrote: "In other words, no orphanage should expect the proceeds of this donation".
Isreal DMW's wife, Sheila Courage David, however, gives a warning to the unmarried girls while gushing about her marriage after their traditional wedding.
This occurs just 24 hours after the logistic manager of the legendary Afrobeat singer's traditional wedding.
The newlywed wife, Sheila David, took to the photo-sharing app Instagram to celebrate her union to Isreal DMW and her entry into the married league.
"I don get husband y'all be safe out there don't forget that Adam cannot be trusted and women get wahala 😂🌚 I'm the best and the best has me😌❤️. I'm HAPPY 😭 THANK YOU JESUS!!!" she wrote.
For further information and updates always visit dailygam.com
Watch the video below …