Entertainment
Mercy Aigbe is unconcerned about her mother's homelessness as a result of witchcraft claims made by her sister.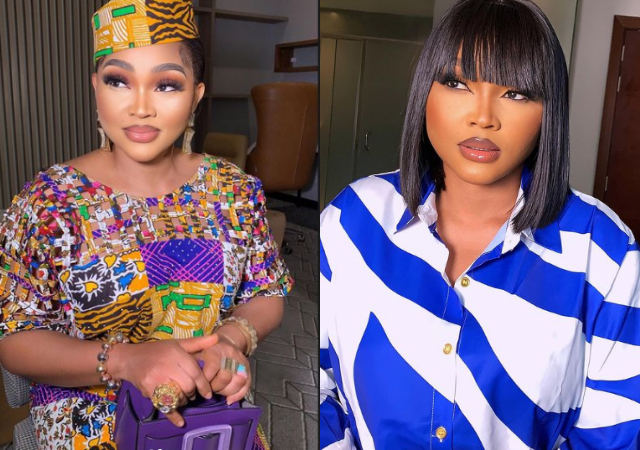 Mercy Aigbe, a popular Nollywood actress, has resumed her normal social media activities hours after her mother's home was burned down due to witchcraft charges.
As previously reported, Mercy Aigbe's older sister, Dr. Patience, took severe measures to vent her hatred toward her mother by setting fire to her mother's home.
Remember that their squabble derives from Dr. Patience's claim that their mother is a witch and her use of her witchcraft activity against her in favor of Mercy, her other adored daughter.
She went on to say that the elderly lady refused to assist her in repaying a N800,000 loan that she had borrowed and was obligated to repay.
According to speculations, Dr. Pat set fire to a house on Lagos' Adebayo Mokuolu Street, immediately across from Anthony Village Recreation Center. Nothing could be saved because the house had been completely demolished.
Mercy's mother currently has no place to return to because the house has been entirely wrecked.
Residents had been awakened earlier in the day on Friday, September 30, by Dr. Pat's noise and yelling as she went on a rampage and smashed her mother's car.
Her mother, who has arthritis, remained inside while her irate daughter ripped up her car and cursed at her mother.
Mercy Aigbe has maintained her social media show girl life as if nothing major had happened after the news went public. Her last two posts after the incident were on her attractiveness and her luxurious food and lifestyle.
"Bangs! Oh Bangs" Mercy Aigbe tagged one of the posts.
Users on social media have continued to respond to the stunning news. Esther Luve wrote:
"But these things existed in the bible too now.why are people pretending that it doesn't exist?What Rebecca and Jacob need to Esau in the Bible is called what ?Stealing and transferring of glory.Also same Jacob that stole his brother's blessing from their father did same to his two grandson borne by Joseph in Joseph's presence.Joseph took them both,Ephraim with his right hand toward Jacob's left hand,and Manasseh with his left hand toward Jacob's right hand.and bought them near him.Then Isreal stretched out his right hand and laid it on Ephraim's head,who was the younger,and his left hand on Manasseh's head,guiding his hands knowingly,for Manasseh was the firstborn.Please you all should read the bible verse to the end because I am tired of writing.Genesis 48:11:20 .And Joseph said to his father,"Not so,my father,for this one is the firstborn;put your right hand on his head".But his father refused and said"I know,my son.I know He also shall become a people,and he also shall be great;but truly his younger brother shall be greater than him he,and his descendants shall become a multitude of nations.Jacob had done the most right from the womb.He has always be fighting Esau his brother.He even held him right inside the womb not to be delivered before him.The same Jacob connived with his mother Rebecca to steal and exchange their father's blessing to Jacob.The same Jacob fought with an angel.Vawulence nations, Know that parents especially father's have the mandate or authority to bless their children and also curse them.The Patriach of your family have the power to bless/curse you too just like Jacob did by exchange the glory of his grandsons to the last Born.So an Unbeliever parent have the power to transfer the blessing of their children to who they favoured.Please know that they have the powers to do all of these most especially if they don't have the fear of God.Even God chooses to bless whoever he pleases. Why did Cain killed Abel?was it not because Abel's burnt offering was accepted and his was not and jealousy took over and killed Abel that made him to become the first murderer on earth ?although Abel did better than Cain.Bible said a man's greatest enemies are"

One Suzan Nart-Elvis commented, "I don't care what your babalawo or pastor told you but this is wrong on all levels…seriously?you burn your mothers house down and damage her car all in the name of what you believe??? No human or man can stop you from attaining your destiny in life,if your sibling is doing better,luv on them and do better to get better…all humans can't be great in this lifetime,one must be better in one way or the other… stop the violence,create a serene and peacefulness in your family and see how your own blessings will come. A good heart and hard work is all you need in life.

One Omotola Imoleayo wrote, "Hmmm nothing but BITTERNESS and ENVY. Your job is different from hers you are good in your own way and have a good job. She's a celebrity because of the nature of her job. She do care for her mother. Anyways, there is always someone like you in a family it's not new but I pray I don't have a sister like you. Ologo bed down select"
For more information always visit dailygam.com