World Cup
Scaloni heads into final as the coach who made Messi and Argentina smile again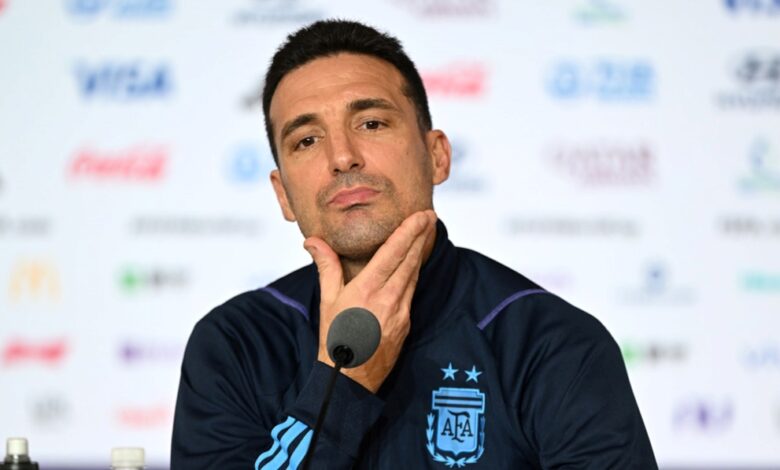 When Argentina plays France in the World Cup final on Sunday, Lionel Messi will rightfully command attention, but if it weren't for his manager Lionel Scaloni, he might not have reached the zenith of his illustrious career.
After being rescued from coaching oblivion and leading an Argentina team that was in disorder to the verge of greatness, Scaloni has penned one of the most intriguing storylines in South American football in recent years.
In August 2018, the Argentinian FA (AFA) appointed Scaloni, the under-17 coach of their national team, as the team's interim manager because they were in severe need of money and were having trouble finding a well-known candidate to fill the position following another World Cup disaster.
They were devastated to lose to France 4-3 in the round of 16, and their star player Messi had already proclaimed his retirement from international competition.
Scaloni, a 40-year-old ex-player, has no prior experience as a head coach.
He left the field of competitive football in 2015, and in 2016 he became an assistant under Jorge Sampaoli at Sevilla. When Sampaoli relocated to Argentina, he accompanied him, and he worked at Russia 2018.
AFA made the decision to elevate the vivacious Scaloni to interim manager status until they could find a permanent manager after candidates like Diego Simeone, Marcelo Gallardo, and Mauricio Pochettino all declined offers to take over after Sampaoli's World Cup disaster.
Many Argentine greats, notably the late Diego Maradona, disapproved of the move because it was unpopular.
"He can't even direct traffic, how come he will direct the national team. Have we all gone mad?," Maradona said in 2018.
RENOVATION PROJECT
Yet amid the noise, Scaloni got stuck in, bringing along his former team mates Pablo Aimar, Walter Samuel and Roberto Ayala as assistants.
They began a renovation project and injected a much-needed breath of fresh air into the dressing room after four consecutive losses in finals at the Copa America (2014-16) and the 2014 World Cup.
Without Messi, he won four of his first six friendlies to earn him the permanent position.
He played a major role in convincing Messi to rethink his international retirement, which ended after an eight-month hiatus.
Since then, they have developed a relationship that has enabled a revitalized Messi to experience his best years with the national team.
After losing to Brazil in the 2019 Copa America semifinal, they went on an incredible 36-game unbeaten streak, which included a cathartic 1-0 victory against Brazil in the 2021 Copa final, to win their first major championship in 28 years.
The victory relieved some of Messi's stress and strengthened the relationship between the team's idol and the supporters.
That is perhaps what gave them the groundwork to bounce back following their shocking World Cup debut defeat to Saudi Arabia. Since then, they have been faultless.
"I try not to get emotional but it's difficult because I'm in the dream place for any Argentine. Representing my country is an emotional thing," Scaloni told reporters after Argentina swept past Croatia 3-0 in their World Cup semi-final.
However, Argentina's journey to the final has involved more than simply emotion. After the Saudi defeat, Scaloni made significant adjustments and had the guts to sign young players Enzo Fernandez and Julian Alvarez, who have since excelled.
He has also made significant adjustments to his tactical approach, playing three defenders against the Netherlands and three holding midfielders to contain Luka Modric of Croatia.
Argentina is poised for greatness thanks to Scaloni's skill, and while Messi will undoubtedly garner most of the acclaim, his coach also deserves praise.
For more updates, always visit dailygam.com