Metro
"She used two litres," a man complains about palm oil in jollof rice served by his lover.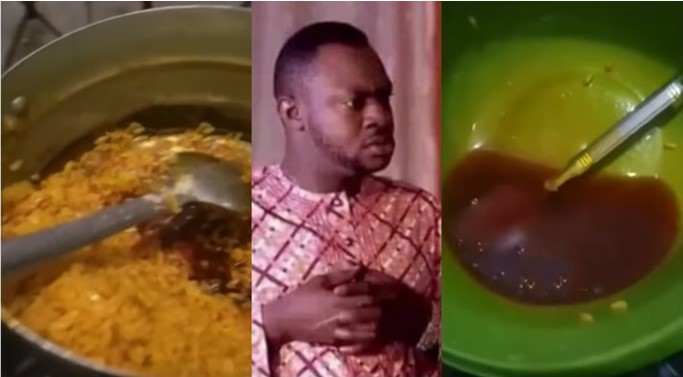 A Nigerian guy has gone online to criticize his fiancée for wasting food while cooking.
He disclosed that she used an inexcusably high amount of palm oil when making jollof for them.
He posted a video of himself sieving oil from food into a bowl and mocking his fiancée by insinuating she is not wife material.
In the video, the young man bemoaned
incessantly, claiming that she used two litres of oil to prepare two cups of rice.
In reaction, officialtheema wrote; The oil sef fit start generator😂😂😂😂
whereis_taiwo; Which one you fit cook? Always quick to shade their partners online.
thekanyinsola; You for just enter kitchen cook am na.. wetin you go con chop like this?? 😢
pretty_meggyy; On a second thought guy na you cook the rice..Na you
pretty_meggyy; Your own hand press pause?if you cook food wey you wan chop for your belle na bad thing?Ladies stop dating men like this,such a disgusting character 🤮
vendorsinlagosng; Is your hand paining you to cook your own meals? Y'all look for every opportunity to drag women when some of y'all can't even boil egg till it's done.
For further information and updates always visit dailygam.com
Watch the video below: