Entertainment
Uche Maduagwu posts a humorous video in response to Yul Edochie's post criticizing him for giving marital advice, saying, "One man, one wife."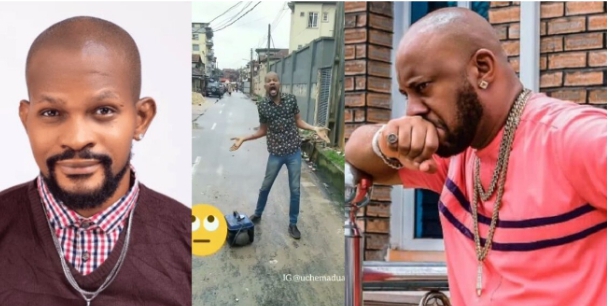 Uche Maduagwu, a contentious media figure, responded after Yul Edochie made fun of him for offering marital advice.
Remember that since Uche chastised Yul for his birthday greeting to his first wife, May, the two have been at each other's throats.
In a lengthy Instagram post, Uche had insulted Yul, who had written his wife an emotional note on her birthday promising to love her forever.
Uche contended that Yul would not have married a second wife if he truly loved his first wife, May, as much as he says.
In response to Uche's message, Yul Edochie chastised him for meddling in his private affairs and talking about marriage when Uche Maduagwu was single.
Yul went on to compare his achievements to those of Uche and gave him advice to have a family and choose his gender before confronting him again.
"Everybody don turn to marriage adviser for my matter. Even mad man wey never marry na marriage adviser too. Craze man who is yet to make up his mind wether to be a man or woman, is also giving me marriage advice. My first child is 17yrs old, in the university.

I have 4 more very handsome and intelligent children. You, it's not even confirmed wether your manhood fit stand, na you wan give me marriage advice?" he wrote in part.
With a humorous video that he posted on his Instagram page, Uche has now responded to Yul Edochie by dragging a generator set.
He maintained that marriage is supposed to be "one man, one wife" and threatened to drag anyone who tried to drag him in the same way he was dragging the generator.
Referencing Yul's assertion that his marriage to May is "for better for worse," he continued, "it's only a monogamous marriage that should be "for better, for worse."
For more news and information always visit dailygam.com