Global News
Young African Lady bags degree in Communications Engineering with first-class, wins PhD award to US university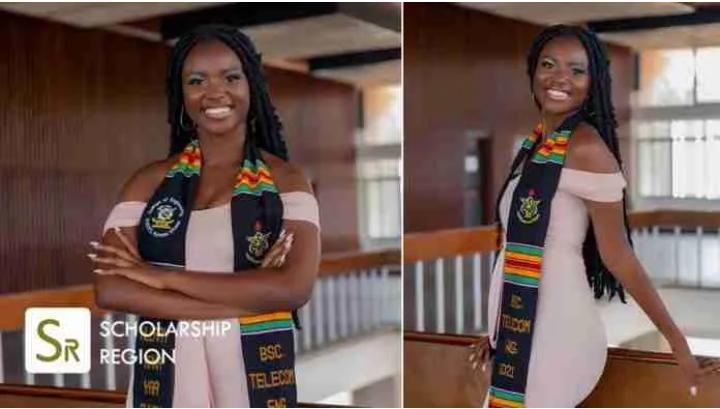 Hillary Nana Yaa Owusu is a smart Black woman from Ghana who graduated with a first-class degree in telecommunications engineering.
Hillary Nana Yaa Owusu, the first member of her family to earn a bachelor's degree, recalled how, at the age of 17, she was accepted to study at Ghana's Kwame Nkrumah' University of Science and Technology (KNUST).
She explained that she had always wished to study abroad but got rejected by all the 17 schools she applied to. " I so desperately wanted to study abroad and I decided to take the SAT around the same time as my first semester examinations at KNUST! It was no easy task but I still managed to begin with a CWA of 75," she said.

She narrated further on LinkedIn that her rejections made her focus strongly on her undergraduate studies in Ghana. "Funny enough, I was rejected by all 17 schools I applied to. This was very painful considering the time and effort I put into it. However, it encouraged me to focus on doing my undergraduate studies in Ghana," she added.
While Hillary Nana Yaa Owusu was a second-year undergraduate student studying Telecommunications Engineering, she also got the MTN Bright scholarship. The MTN Scholarship Plan offers academic scholarships to students in public tertiary institutions in numerous African nations who are studying science and technology as well as blind students in any discipline.
For more updates, always visit dailygam.com