Global News
75-year-old man finally graduates from university after abandoning studies since 1959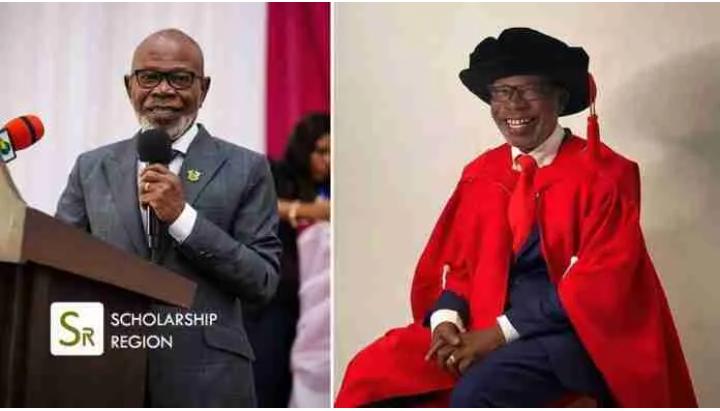 After many years of dropping out of school for financial reasons, George Ayisi-Boateng, 75, has returned to the institution to complete his Bachelor's, Masters, and Doctorate (PhD) degrees.
Dr. George Ayisi-Boateng, who is 75 years old, had difficulties in school when he was younger. When he was in third grade, his father passed away, leaving him to be raised by a single mother who also had to care for 15 other children.
Despite all the obstacles, the young Dr. George had to fight for himself. He overcame his personal obstacles to achieve great achievement. His personal commitment to ensuring that all of his children received a highly-educated was what drove him to strive harder.
Through independent study, Dr. George was able to get an Advanced Level (A-Level) credential in 1994. His first daughter had graduated from school and had begun working as a teacher at St. Louis Secondary School in Kumasi, and his second daughter was a student at Kwame Nkrumah University of Science and Technology. He made sure that all of his children enrolled in school at a young age (KNUST).
His third child had graduated from university in Canada, his fourth was a fifth-year student at KNUST's School of Medical Sciences (SMS), and his youngest was enrolled in a nursing program.
Dr. George made the decision to return to school for further education in 2005, after making sure that all of his children had completed a variety of respectable levels of education (11 years after receiving an A-Level).
He wants to accomplish something that his father was unable to do for him when he was alive. The voyage began when he had a conversation with his family and a few friends, according to Graphic Online.
Dr. George, who was 60 years old at the time, participated in evening sessions at the Akenten Appiah-Menka University of Skills Training and Entrepreneurial Development, formerly the Kumasi branch of the University of Education, Winneba (UEW) (AAMUSTED).
He earned a Bachelor of Business Administration with honors when he was 64 years old. He went on to the Kwame Nkrumah University of Science and Technology (KNUST) to get his business administration master's degree (MBA).
For more updates, always visit ddailygam.com