Global News
Boy humiliates ecstatic mother who rushed to him with ribbon on graduation day, claiming she was embarrassing him (Video)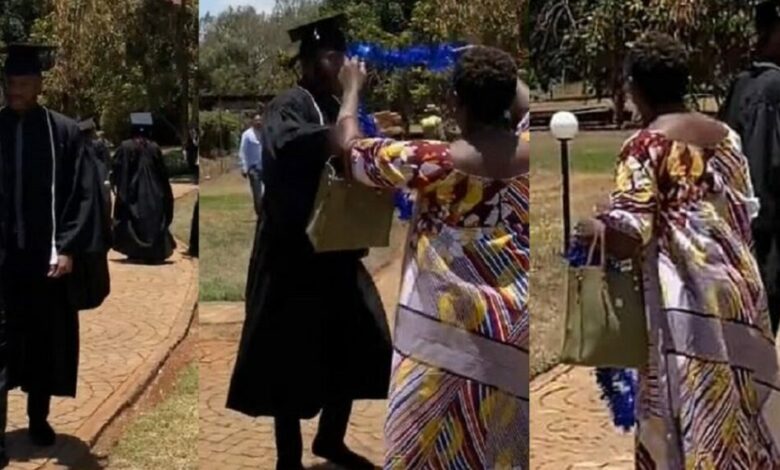 A young man has come under fire on social media for how he treated his mother at his Graduation Ceremony.
In an online video serving the round, a young man dressed in black graduation garb walked out on his mother, who tried to offer him a ribbon.
The mother, clearly overjoyed that her son was graduating, dashed towards him with a floral ribbon to tie around his neck, but he refused.
As his mother approached him with the blue ribbon and attempted to place it around his neck, he pushed it aside with his hand before walking out.
It was embarrassing for him to see her bring a ribbon to place around his neck during his graduation.
As he walked away, his mother cast a dejected glance at the ribbon.
The video has since gone viral, prompting a flood of comments from social media users, the majority of whom chastised the child and accused him of humiliating his mother.
Reacting one @delaiza_nipsey said, "I can't do this to my mom. She's the most amazing and wonderful gift from God. Idc if it's just me, but I would run towards momma. Not away from her."

@Mirabelle, "Meanwhile someone doesn't even have someone to show up for them".

@anitauz, "Love and appreciate your family, the people you're trying to impress wishes they have a family like yours."

@mayaissa, "I would even allow to wear her shoe on my head,she is incredibly happy for you,she is the only genuine person that feels deeply happy 4 u."
Watch video Below;
Always Visit dailygam.com for more information and updates