Global News
Ghana: Akufo-Addo appeals to the military to "stay true to the 1992 Constitution" and promises that the difficult times would end soon.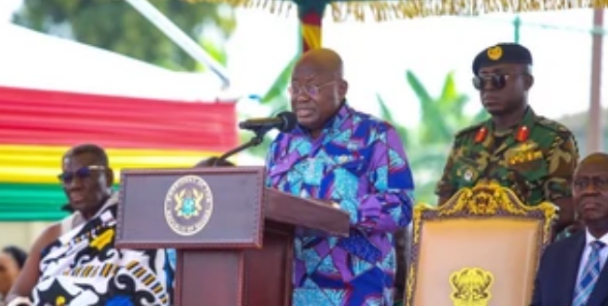 In the face of Ghana's current troubles, Nana Addo Dankwa Akufo-Addo has asked the military's rank and file to be "patriotic and faithful" to the country's Republican Constitution.
This was said by the President in a speech he passionately delivered in front of troops during his Kumasi Tour at Idris Barracks in the Ashanti Region, where he was booed by Adum Kejetia market men and women who were formerly his primary supporters. The choice of Idris Barracks to deliver the President's most iconic address is telling.
Camp Idris is named after the late WOI Idris of the 48 Engineer Regiment, who was killed in 1983 after an unsuccessful effort to overturn the 31 December 1981 Revolution.
Speaking on the issues the country is facing, President Akufo-Addo urged the military to work with him to steer the country out of the current troubles.
President Akufo-Addo asked the security forces to continue to be "great patriots, excellent ambassadors of the security forces, and excellent citizens of our nation," saying he is honored to serve as their Commander in Chief.
"We are going through a difficult time in the history of our country …. We are going through a difficult time in our economy. We also going through a difficult time as far as security is concerned" the President told the men and women in uniform.

"On the economy, we are all aware of the events that have taken place in the last year which have brought a lot of things under strain. We are making every effort in negotiations that are taking place with foreign partners to put our economy back in a good space. Very soon the difficulties that confront our economy are going to be things of the past."
The President went on:
"I want to encourage you to continue the good work that you're doing for our country. I encourage you to stand firm in your loyalty to the Republic, your loyalty to the Constitution of our nation so that the orderly, peaceful development of our country which is the only way that can guarantee the future prosperity we are all working for can come about…. So that these [present] generations of Ghanaians will leave as our legacy, that even when things were difficult in Ghana, we all held together under our Republican institutions and our constitution to find a way to a better future for our nation. I am confident that we can do it and I am counting on you to help me do it." The President Ended.
For further information and updates always visit dailygam.com