Global News
Kenya: The first bone marrow transplant is performed at Nairobi West Hospital.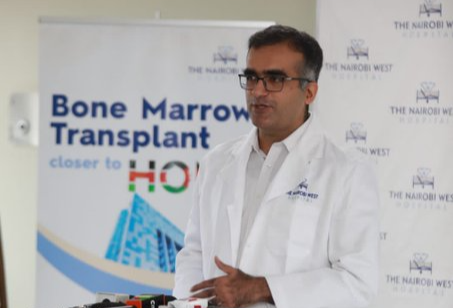 Kenya's first bone marrow transplant (BMT) procedure was performed at Nairobi West Hospital.
This is welcome news for many people who must fly abroad for such procedures.
The treatment was carried out successfully on a patient, according to Prof. Andrew Kanyi, the hospital's Chief Medical Officer.
"Nairobi West is the first ever institution to start bone marrow transplant," Dr Kanyi told the media on Tuesday.

We have successfully done a procedure and the patient is recuperating well."
According to Dr. Kanyi, the patient who underwent the surgery is recuperating and will be discharged in one to two weeks.
He further added that the procedure eliminates the need for Kenyans to travel abroad for treatment, which most have been doing to India, Egypt, or even the United Kingdom.
The Bone Marrow Transplant department of the hospital strives to provide comprehensive, integrated, and patient-centered services for the diagnosis and treatment of all sorts of blood disorders in adults and children, including blood malignancies.
Since 1963, bone marrow transplantation (BMT) has been used successfully to treat diseases such as blood cancer (leukemia), lymphomas, aplastic anemia, immune deficiency syndromes, and various solid tumor malignancies.
For more information always visit dailygam.com