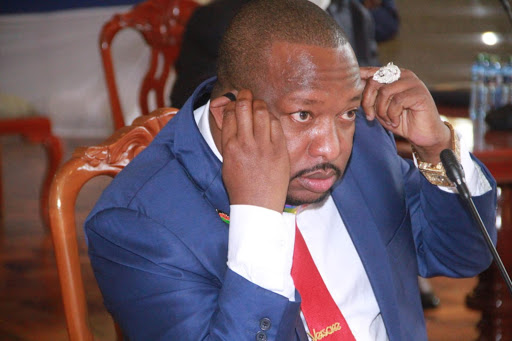 Former Nairobi governor Mike Sonko is not one to allow a slight go unpunished.
The lawmaker who has become one of Kenya's most prominent social commentators has slammed renowned entertainer DJ Kalonje.
Sonko took to his popular Instagram page to hit back at the deejay who had called him out in an Insta Story yesterday evening.
In his article, the kind lawmaker chastised Kalonje and labeled him a liar for attempting to blackmail him.
"Take your useless blackmail to hell, I've checked my Instagram inbox and you didn't reach out to me."
He also mocked the DJ for asking for help like he was a slay queen and demanded that Kalonje reveal whether he had become a gay guy.
"Usaidiwe na politician kwani we ni slay queen? Nakama umekuwa shoste utuambie!"
He concluded his message by informing the well-known spin master that he was not a charitable organization that had to assist him.
"Mimi sio red cross ati lazima nikusaidie."
He also referenced to Kalanja's previous relationship issues, which played out painfully online.
"Mafeelings zako na madepression zako za ma dame peleka mbali na mimi."
The politician was responding to a message in which Kalonje bemoaned Jaguar and Sonko's failure to assist him when they were in power.
"Politicians who had their chance to help the community but didn't. @Jaguar and @mike sonko. Mafala…When I reached out when my studio was taken over by Somali cartel mlinizungusha."
The disc jockey went on to claim that his father had died as a result of the depression brought on by losing his job in one day.
"I single handedly brought back my empire up again from scratch. Mungu ni nani…" he bragged.

He then finished off by saying that he knew that new Nairobi governor and a few other politiccians would now help him."
For further information and updates always visit dailygam.com
See post Below;