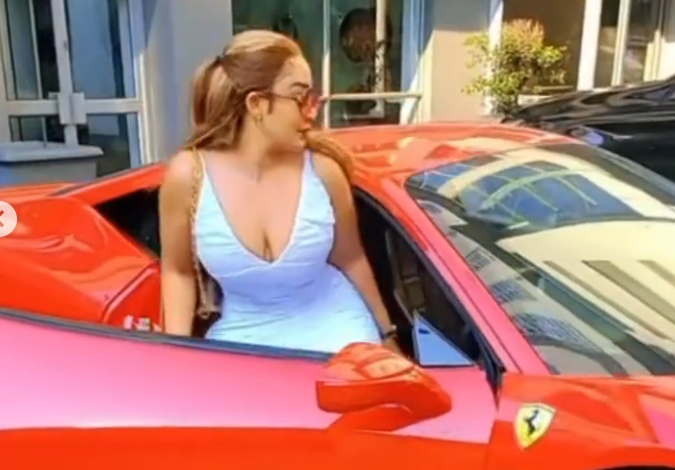 Zari Hassan, a businesswoman and socialite from Uganda, recently purchased a new vehicle.
Zari displayed her newest sleek wheels on her Tiktok video.
In the video, Zari can be seen approaching the Racing Red Ferrari while donning a white body-hugging dress with no sleeves.
Fans responded to the video in a variety of ways in the comments section.
"Babe you inspire us. Even your enemies became your fans. More videos," said one Plutas.

"You don't have the key's😁😁😁" a fan, who goes by Th-president, said.
Zari responded:
"Common sense isn't common. The car is already open and on… or did I need to prove a [sic] for you in particular and rave..would the soundtrack make sense?"

"Ooh my Goodness 🥰🥰🥰. A new baby in the family 🥰🥰" one Ayeseza commented.
The latest addition to Zari's priceless collection is a Ferrari she just bought.
Mercedes Benzes, an Audi Q, Bentleys, Hummers, and Tundras are among Zari's fleet of vehicles.
In a recent TikTok video, she paraded them.
Her baby daddy Diamond Platnumz gave a brand-new light-blue Bentley to the mother of his two firstborn children two years ago.
On her Instagram page, Zari shared a photo of herself standing next to the car, which had a large red ribbon around it.
She continued by thanking Platnumz for the present.
 "Thank you T's dad (Princess Tiffah) for the top-up," she wrote, with a prayer emoji at the end.
Zari stated a few days ago that the education sector is both her main investment and reliable source of wealth.
"I own colleges across South Africa," she stated.
The reality TV star also makes money by appearing on TV shows and in clubs while representing various brands as their brand ambassador.
For further information and updates always visit dailygam.com