Entertainment
Kenya: Former model Emma Too has released receipts from Trevor Ombija's mumama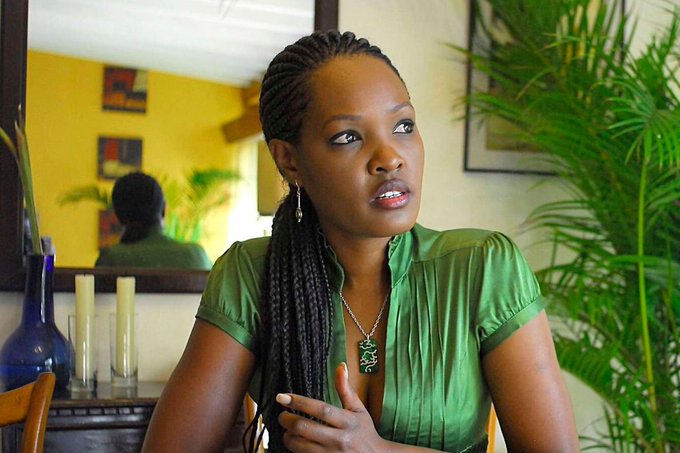 Former model Emma Too has come out swinging, not only identifying herself as the woman Trevor Ombija was referring to, but also accusing the news anchor of having a mumama.
A video of Trevor talking about how he offered to soundproof the house of a certain tenant who had been hounding him about the noise issue went viral.
Trevor was speaking at a meeting to resolve a noise complaint filed by residents and business owners in the posh Kileleshwa area (over his lavish restaurant dubbed Samaki Samaki).
The media personality claimed that the woman in question was harassing him because he refused to give her a landscaping contract.
Following the viral video, Emma released videos of her house being filled with loud music from Samaki Samaki, as well as screenshots from chats she's had with a lady she claims is the real owner of the restaurant.
According to Emma, the real owner of the establishment is a lady named Vanice Morwabe.
Emma also responded to Trevor's post on Twitter, but she avoided using his name and instead referred to him as Noah.
" I'm truly the wrong lady to intimidate! I'm not even shocked that's how he thinks he can solve this! I have been very clear about what they should do! 

I never address Noah, I address the real owner!," part of Emma's tweet read.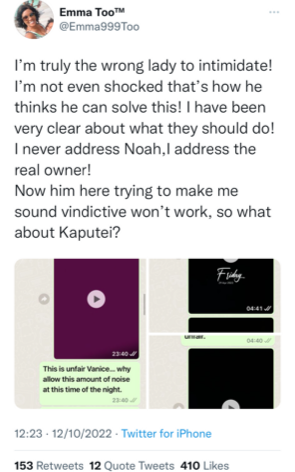 She went on to add, "How do you soundproof a split-level house and not the actual club? What will other residents do? Will they also soundproof the whole street? Turn down the music and stop parking at my house!"
Emma concluded by saying that she had tried to be cordial about the situation because the establishment is owned by a lady and she was trying the whole women supporting women thing.
" I have been very consistent in my cry about the said establishment and I have never attacked them or even said the name here.

The reasons being it is a woman-owned business which I guarded and wanted her to do the right thing," Emma ranted on her Twitter page.
Neither Trevor nor the woman in question have responded to Emma's tweets.
Interestingly, Emma's accusations coincide with speculations that the lady is the mumama behind Trevor's lifestyle since June of this year.
However, the journalist has previously stated that the allegations are false.
For further information and updates always visit dailygam.com