Global News
Saudi: Saudi recruiters react to a video showing a woman breastfeeding a dog.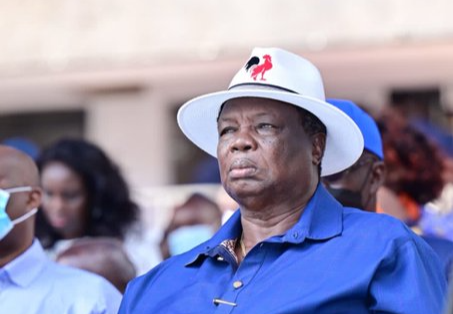 The agents claimed it was a minor issue with a simple solution. After all of the incidents that have occurred in the last few months, Saudi travel agents have been on the receiving end.
They held a press conference with Kenyan media yesterday to address the elephant in the room.
The agents dismissed the claims of mistreatment, claiming that 0.001% of the 200,000 Kenyans working in Middle Eastern countries are raising false alarms.
They asked the government to assist them in establishing safe houses so that Kenyans fleeing the country for greener pastures would be safe rather than relying on the embassy.
The agents added that before any measures to eliminate travel agents are implemented, the government should seek a meeting.
Dispelling Francis Atwoli's claims of a woman in the Gulf breastfeeding a dog, he stated that Arabs do not keep dogs because it is forbidden, haram.
He insisted that the trade unionist apologize to Kenyans for the false alarm.
The agent warned the media not to share information without first verifying it, as this causes unnecessary panic.
Four ministries come into play when someone wants to work in Saudi Arabia: the Ministry of Labor, the Ministry of Foreign Affairs, the Ministry of Interior, and the Ministry of Education.
Kenyans had these reactions to make on the same,
Hans: These people are protecting their business 
Dave Odie: Close this man should be arrested ASAP! Kenyans have suffered in Gulf and its time. Shut them down completely!!!!!!
Jannifer Kimani: Atwoli afunge saudi kwanzwa kieleweke. Hii wimbo ya hawa washenzi tumezoea our sister are suffering die there.
Moses Wamalwa: I don't trust this man, Atwoli continue push the motion. And make sure this fake companies are closed.
Sherry Keya: But pia nyinyi agents mnafaa kuchange kazi yenyu mkipata pesa mna sahau wasichana watu wanapitia mateso sana si chakula, salary, kulala late kufanyishwa job mob mara kwa bet mama Mr mara kwa bet mama madam. Wengine pia simu zinachukuliwa wanapewa Fridays tu. Kwanza kuna agent anafaa kushikwa anaitwa Jacky
For more information always visit dailygam.com