Global News
19-year-old pregnant Lady who wrote her final year exam in labour room graduates from US university with first-class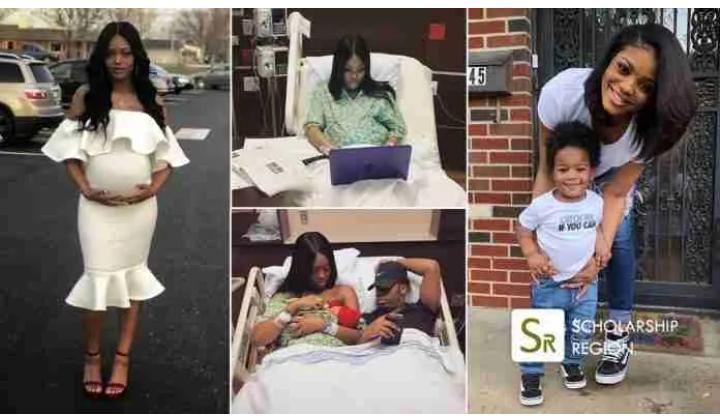 Nayzia Thomas, a clever 19-year-old expecting mother who wrote her final papers while in labor and expecting to give birth to a son, received a first-class diploma from Johnson County Community College in Kansas City, Missouri, in the United States.
Nayzia Thomas earned a 3.50 GPA and a first-class Bachelor of Psychology degree. Before the birth of her son Anthony Johnson, who arrived around 12 hours after she turned in her final, she said she intended to finish the semester.
"It wasn't due until the end of the week. But my goal was to try to have everything done before. [I thought] before all this gets crazy, let me hurry up and finish this final," she told Yahoo.
She shared the results of her labor room exam appointment with pals after her encounter on social media. She revealed a before-and-after picture that her mother allegedly snapped while the latter was in the hospital.
"School is so important to me. I didn't want [pregnancy] to be in the way. That's what people expect. You're a teen mom, you're a young mother. That's why my mom took that picture," she said.
She described how after giving delivery, she encountered difficult struggles, but her son's father was always ready to step in and take control if she fell asleep. "Our newborn boy was born healthily. However, after giving birth, I lost a significant amount of blood, and my body went into shock. It was quite awful, but when I passed out, his father was there to take over. We are fortunate, she said on Twitter.
For more updates, always visit dailygam.com