Global News
An elderly woman of 75 bags master's degree in University of South Africa; plans to pursue PhD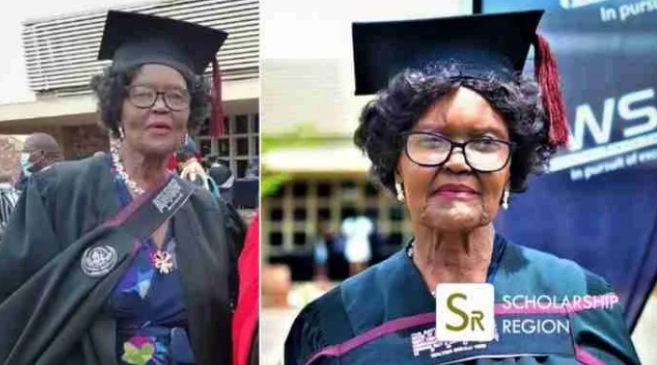 Notozi Jennifer Mgobozi, a motivated 75-year-old grandmother, has realized her longtime desire of continuing her education by receiving a Master's degree from Walter Sisulu University in the Eastern Cape, South Africa.
Notozi Jennifer Mgobozi, who received her bachelor's degree in the 1960s, recalled Philip Saluva, her brother-in-law, advising her to pursue a career in education. Her love for teaching has grown ever since she earned her bachelor's degree.
Jennifer Mgobozi joined numerous non-governmental organizations (NGOs) that concentrate on education after receiving her degree from the Tshiya College of Education. She has a greater interest for teaching languages and can speak more than four languages.
After several years of employment, she made the decision to enhance her education in 2016 and enrolled at Walter Sisulu University to pursue a Master's degree in Education. "In Mthatha, I worked with women who were accompanied by their families. She described how she became inspired. "After work, they would go home to their families, but I was lonely [by this point, she was divorced]," she said.
Why should I feel lonely when I can concentrate on gaining an education, I reasoned. I reasoned that because the nearby university is accessible on foot, why not go there and sign up?
"Whether I originally informed my family I wanted to study, they questioned me about when I would become tired of learning. They weren't entirely sure at first, but they didn't discourage me, she added.
For more information always visit dailygam.com