Metro
Nigeria: A businessman hires his father, who disowned him years ago due to religious concerns.
Bobola, a Nigerian guy, has resorted to social media to announce that his brother has hired his father, who abandoned him a few years ago.
He revealed that his brother had launched a pig/pork company, but their father disapproved because they were Muslims.
Because the man disowned his son, the youngster departed and concentrated on his company, only to return later as a wealthy businessman.
Upon his return, the businessman sent his father on a pilgrimage to Mecca, and he also employed his father as the manager of his pork-producing enterprise.
@Bobola__ wrote; "My brother was disown by my father because he venture into a pig/pork business as a Muslim, few years later he came back 3x richer from the business and sent my father on a pilgrimage to Mecca 🕋, Now my father is the manager of his pig company…in this life just make MONEY 💰"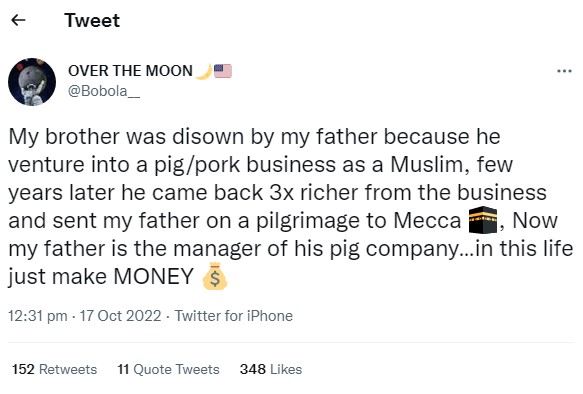 The post came with mixed reactions from social media users.
@majidadilast; Haram is still Haram and hope u know there is no justification for anything Haram even poverty
@blackdiamond28B; Didiri lol, but the same father is the manager of the pig farm. Una go just carry religion for head like lil wayne.
@Olatunji_Immam; May Allah's test, greater than our faith, not afflict us. I believe he still knows it's impermissible but the money…hmm. I pray for more Allah's guidance for him and his family.
@QueenetInyang; Eweeeyyyy, I know of someone who has about 13 night clubs in a certain liberal country. He can't try that at home though.
@Sengodson; Exactly!!I and my dad never agree on anything, just like cat and rat,I sent him money to buy a truck for me,story change
For more information always visit dailygam.com