Metro
Nkechi Blessing on sharing dildos at her mother's funeral
"I'm not saying men are filth because I have one, but if you don't, you need a dildo."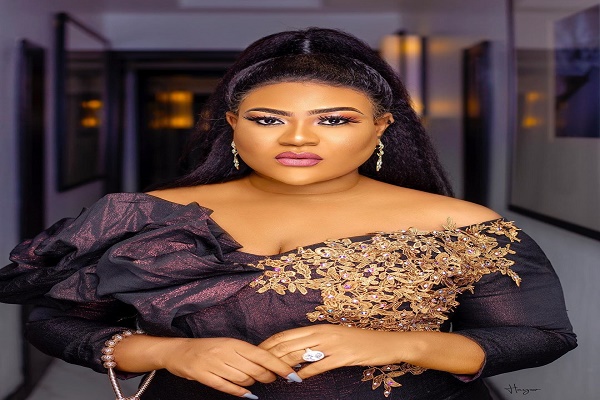 Nkechi Blessing, a controversial Yoruba actress, handed sex toys and dildos as souvenirs in Lagos on Saturday.
Her mother's death anniversary was commemorated.
The actress' mother died in September 2021, days before her birthday.
The viral videos have drawn mixed reactions.
The actress stated sex toy advertising helps her and her family financially.
Many have questioned her "advertising" morality.
The actress has advertised sex gadgets on Instagram for two years.
The actress told PREMIUM TIMES she ignores criticism when contacted.
She insulted her enemies, stating they begged her on WhatsApp for dildos despite criticizing her online.
On WhatsApp minutes later, she called critics insignificant.
In a video from the event, the actress added, "I'm not saying men are filth because I have one, but you need one (dildos) if you don't."
Controversies
The actress broke up with Opeyemi Falegan after a blog accused her of cheating.
The blog accused the actress of having a personal encounter with a realtor for an endorsement.
Nkechi is also the Group Managing Director of an Abeokuta, Ogun State, real estate company.
The actress dated the company's owner.
The actress, who has a love-hate relationship with her fans, has been in the headlines about her politician boyfriend, according to a blogger.
Blogger called Nkechi Falegan's wife.
The Yoruba actress reportedly stated she dated Mr Falegan to get back with her American partner.
"He loved me most. My American ex-boyfriend started sharing photos of a female obscuring her face after we broke up, and I realized he was asking me out. So I used him to get revenge at my ex; we got together.
The actress hinted to a new relationship.