Metro
Brillant Nigerian man who works as a bank security guard returns to school for a university degree and quickly advances to the position of banker.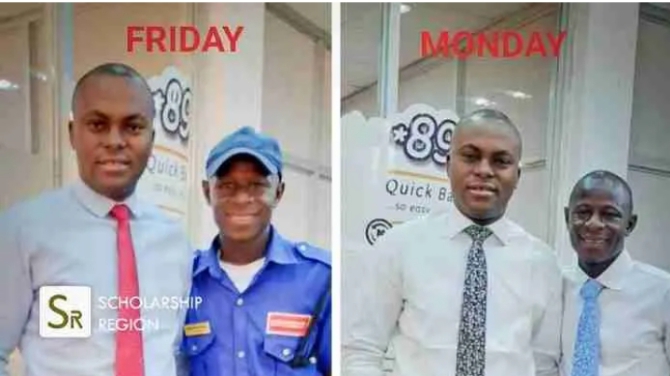 A brilliant Nigerian man named Idris has inspired many people after being promoted from bank security guard to banker.
Idris, who had previously worked as a security officer, returned to a Nigerian university as a part-time student to complete his Bachelor's Degree. His boss, Ayomide Babalola, who told his story on Linkedin, described Idris as a hard worker.
"Chai!!! You could not miss him with his smart and military-like salute for staff and customers," Ayomide said about Idris.
Ayomide stated that Idris informed him of his academic ambitions to obtain a Bachelor's Degree. He had previously studied for a Diploma Degree and desired to advance in order to demonstrate his brilliance.
Fortunately for Idris, a position in the bank had become available by the time he completed his Bachelor's Degree.
"One of our staff members got a higher role in the bank and was about to be moved to another department. Idris came to me and told me he was qualified and interested in the 'would be vacant position'. My interest was piqued. Nothing gets me more than people development especially my team members," Ayomide narrated.
Idris was then interrogated in order to assess his abilities and academic qualifications to work as a banker. He aced all of the tests and was finally given the opportunity to demonstrate his brilliance.
For further information and update always visit dailygam.com