Metro
In the middle of a movie shoot, a man proposes to his actress girlfriend.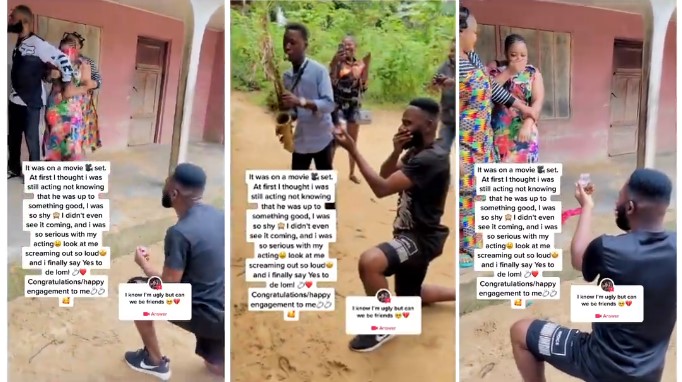 When her boyfriend proposed to her on a movie set, a beautiful Nigerian actress was taken aback.
He arrived with a saxophonist and went down on his knees holding a ring while she was in the middle of a shoot with her colleagues.
Because she was blindfolded, his girlfriend, who was deeply involved in her acting, was unaware of what was going on.
When the blindfold was removed, she remained in character and continued screaming while attempting to flee without seeing her man on his knees.
At one point, the actress playing her mother in the film directed her attention to her man, who remained on his knees for the majority of her dramatic performance.
When she realized what was going on, the actress covered her mouth in shock and was moved to tears.
The saxophonist serenaded the stunned lady, who eventually accepted her boyfriend's proposal.
For further information and updates always visit dailygam.com
Watch the video below: