Entertainment
Trending video: Drama as more than 10 cops struggle to arrest one drunk woman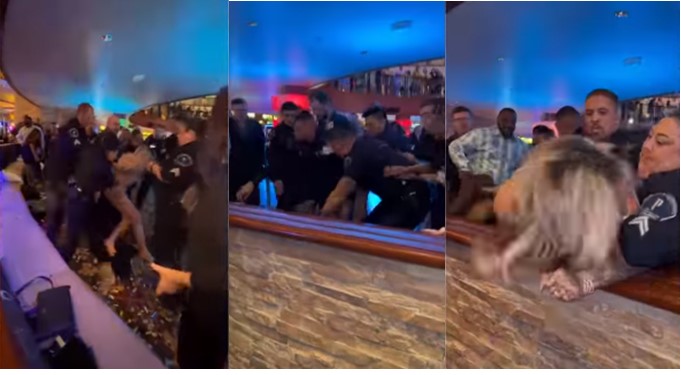 While attempting to apprehend one woman who was causing a disturbance at an event, a squad of police officers faced an unexpected obstacle.
Officers were summoned to settle the situation because the woman was inebriated from alcohol and was acting out.
However, she put up a strong resistance, making it challenging for nearly a dozen police officers to arrest her and take her away.
The police, both male and female, could be seen attempting to pin the inebriated woman to the ground in a viral video.
The officers ultimately managed to restrain the powerful lady after several intense moments that were seen by guests.
Reacting, king_sallyjay said; If she was black, you would see how they will bring her down once
chuckbb22; Oyibo police no dey shame, u will see three or four cops trying to arrest one person
ngrdbowen; She maybe a he she
lauren.beatty.18; Excessive force!😢😢😢
madamedinero; IKYFL Is that Stormy Daniels?!?😂
theaccountant609; If she was a dark skin, trust me they would've made sure to put her on a choke and k!ll her right before our eyes.
For more updates, always visit dailygam.com