Metro
Fight ensues as student confronts her endowed roommate for using her brassiere (Watch video)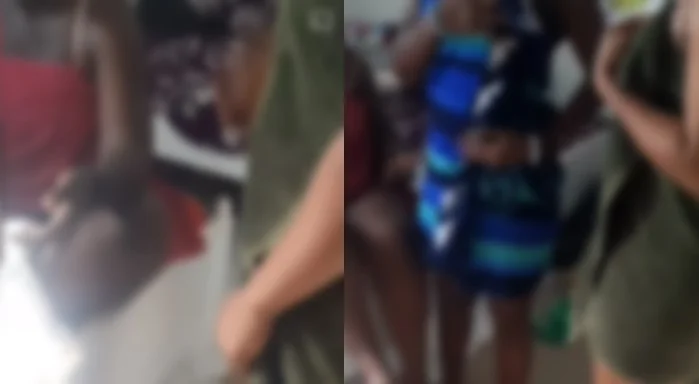 On video, a Nigerian woman is seen berating her roommate for allegedly stealing her brassiere without asking first.
The student entered the room to confront her roommate after failing to notice the bra hanging outside.
She recalled a moment when she had worn her bra in the past and tried to humiliate the woman for sharing underwear with her.
She questioned whether the youngster received any payment for attending school because it is likely the reason why she is utilizing other people's property.
She was made fun of by the woman for having a large bust and acting like a big girl around guys but without her own brassiere.
She advised her to spend her money on bras and underwear rather than the pants she usually wears to fool guys with her rear.
The accuser shouted her accusation while the accused lady begged her to calm down so they could resolve the matter amicably.
After a while, a different woman entered and attempted to defuse the situation, but she only succeeded in making things worse when the belligerent woman shoved her aside.
A physical altercation finally broke out over the issue.
See comments below;
sidney_leo; 😂😂😂😂 I don't date broke guys
black_4reigner00hr; Una weldone Nollywood movie 🎥
mauricesplug; Bra don cos fight o
brother_miller_; Now I understand why some girls never have roomies 😂
thousand_thousand_1; We need the fully video I'm trying to get something straight😂😂😂😂😂😂😂
official_kenzdavid; The bra is not actually the problem😂 na the big yansh be the real issue here 😂 can't u see the way she keeps pounding on it 😂
captainc_abb; Make she comot am…even if you share bra, should you wear hers without her permission?
somiiajae; This can't be real. Sharing bra and pant? 😂😂😂
mayor_of_linkup; Poor girls, later they will come outside making noise.
emeka_mills; I nor wan believe say na real because if na real. The girl when come defend the person wen thief bra for rope suppose collect woto woto first before them address the matter.
russiaz_king; This camera person self, you can't capture ordinary face? And come where is the ending part of this video. Can you redo the video I want to check something.
For more updates, always visit dailygam.com