Global News
Ghana: A tidal wave washes away a Ghanaian man who was defecating in the sea.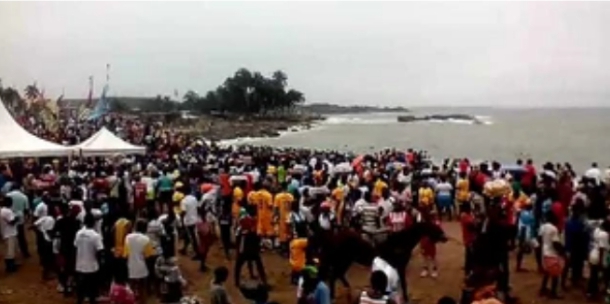 A heavy tidal wave washed away a young man who was defecating in the sea, leaving residents of Anomabo in the Mfantseman Municipality of the Central Region in both sadness and shock.
According to starrfm.com.gh, the deceased, a stranger in the community who was there to celebrate a festival, was in his 20s.
He had revealed his intention to defecate in the sea, but all attempts to persuade him otherwise were futile. He allegedly claimed that he liked defecating in the sea because of the cool breeze.
He went against his better judgment and squatted on one of the sea's rocks to answer nature's call. While he was doing so, a large tidal wave unexpectedly erupted and washed him deep into the sea.
The incident was reported to the Anomabo Police Station for investigation, and a search for his body was organized.
Nana Kwame Sankah, Chief Fisherman for the Anomabo Community, confirmed the incident to EIB Network's Central Regional Correspondent, Yaw Boagyan, saying it was not the first time the sea washed away someone in the area.
His only surprise was how far the young man went into the sea to find a comfortable place to defecate on a rock.
He condemned people defecating into the sea, adding that the community would perform rituals to seek forgiveness from the sea in order to retrieve the victim's body.
For further information and updates always visit dailygam.com