Global News
Amazing scenes as little girl snaps pictures of her dad who just graduated from US university with honours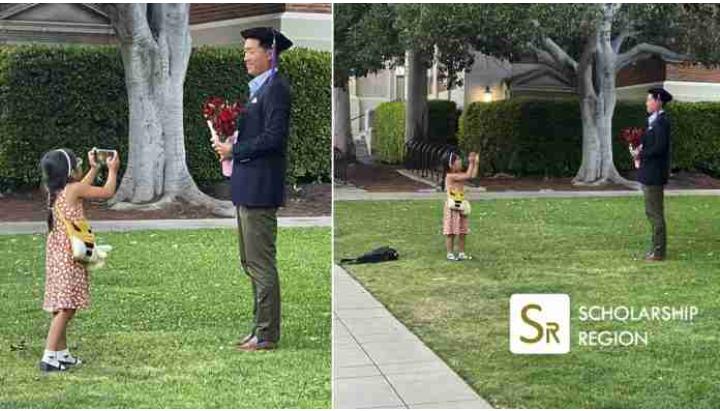 A young girl was seen rejoicing by herself with her father, who had just received honors from a university in California, the United States.
The image, which was posted on Twitter, showed the small child expertly managing the camera while her father stood nearby for a celebratory photo. Following the spread of the nice photos on social media, people praised the young girl for supporting her father during such a momentous time.
The Twitter user who shared the event narrated that she went to her brother's graduation but sighted the little girl taking pictures of her father alone. "This is the cutest thing I have seen today.
Went to my brothers graduation and saw a little girl taking pictures of her dad who had just graduated too. It was JUST them two. I was crying she was so proud of him," she wrote.
Many academics from around the world responded to the fantastic event by narrating how amazing it feels to have the support of such young people. Head of Business Development for a US corporation Matthew Hotchkiss described how having the support of his family gives him a tremendous sense of success.
"As someone who got his degree late in life I can personally attest to the immense feeling of accomplishment. It obviously helped my career but it was more than that. There's never a good time to do anything they say, but I would disagree," Matthew narrated.
Michael Evans, who similarly reacted, described an analogous gorgeous event he saw while in college. "When I finished my Master's, I went to both the university-wide celebration where only the Doctorates were recognized individually and the ceremony where I received my diploma," he stated. A young girl's voice shouted "Yeah Mom!" from the top of the arena as one woman was called. I was aware that it would be a memorable experience for both the mother and the daughter.
For more updates, always visit dailygam.com